Steps for booking rooms in Winters College:
View the space below and see if the capacity and the time-frame is appropriate for your event or program.
Send an email to wcollege@yorku.ca. with the following information (please make sure you are allowing more than 15-20 business days for your booking):
– Name of Event
– Date of Event
– Time of Event
– Department/Unit/Club Name
– Name & Title of Requester
– Number of Participants
– Will any food/beverages be served? (where food is provided at an event, an on-Campus caterer must be used.
– What will be taking place at your event
Wait for our follow up questions/ response on whether the room is available.
Once you get confirmation from our office that the room is on hold, complete your Temporary Use of Space Form Here
Once your permit is issued, we will email you for arrangements to pick up the key.
---
Junior Common Room
(012G Winters College)
Note: To request booking the JCR between May 1st and August 31st, please contact Accommodation and Conference Services
Capacity: 90
Additional Information: The JCR is student space, during work hours. Bookings can only be made for this room after 6:00pm each week day.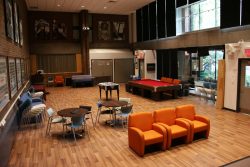 ---
Additional Room Booking Information:
Accommodation & Conference Services
TUUS Form
For Student Clubs:  You are responsible arranging your own audio/visual and technology by emailing askit@yorku.ca NOTE: You must forward your TUUS Authorization/Permit as part of your email.